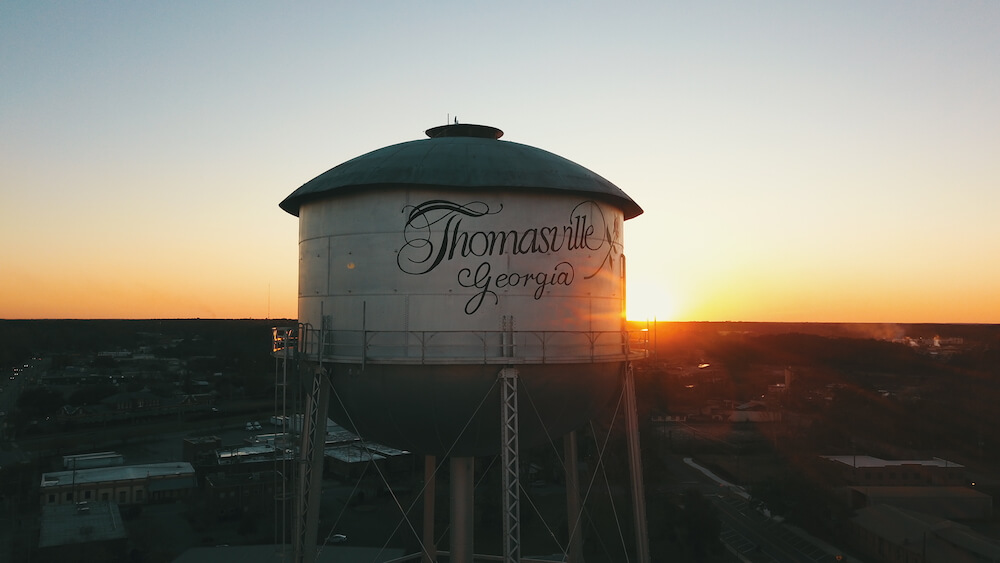 Your business has a story. We take your story and turn it into an visual experience that customers will fall in love with.
Videos have been proven to demand more consumer attention than any other medium. And while we\'re in the midst of what some might call a content-overload for consumer, capturing attention is particularly key.
Summerhill Creative is a full service video production and creative services company based in Thomasville, GA. But essentially, everything we do comes down to one thing – telling great stories. We know how to communicate your unique story, engage and educate your customers, and drive sales to your brand. If you can dream it, we can bring your story to life in a way that makes customers stop and notice. 
Real estate listings that include a video receive 403% more inquiries than those without.
After watching a video, 64% of users are more likely to buy a product online.
Video in an email leads to 200 – 300% increase in click-through rate.
*Statistics Taken from Hubspot.com
The Summerhill Creative Approach
Commercial video comes in many different shapes and sizes. Creating impactful video that generates sales and brand awareness is more than just pointing a camera and shooting. Your story is like no other and the video that we produce for you will be like other as well. We take a custom approach to accomplishing your business and marketing goals. From pre-planning through editing and post-production, your finished product will be just as completely unique. Just like you.
VISUALIZE YOUR IDEA
The first step in commercial video production is planning. Making your project look spontaneous and fresh starts with a very specific plan. It sounds almost counterintuitive, but in reality, those casual \'unrehearsed\' videos you see on television or online are successful because of very detailed planning before the first shot. 
THAT PERFECT SHOT
The most important part of any video production, the filming. We can shoot your project in 1080 HD, 4k or even 6k with our cinema-grade ground and aerial filming equipment. This provides us the flexibility to create stunning, cinematic results for your commercial video that brings your story to life.
THE FINISHING TOUCHES
Editing and post-production is where the story really comes together. Watch it come to life with visuals, audio effects, color grading, voiceovers, and music. Don\'t just take our word for it – take a look at the examples of our work below.
DOWNTOWN DEVELOPMENT
DOWNTOWN BAINBRIDGE
Development Authorities, Tourism Departments, and Chambers of Commerce use professional video marketing in numerous ways. Your town has a unique story just begging to be told to the masses. Telling that story through video is the most engaging platform you have. 
When the Bainbridge Downtown Development Authority approached us about projects highlighting their unique town we knew just the right idea. Simple and smooth. A video project that can be used through digital video marketing, grant applications, and state-wide presentations. 
BANKING HISTORY
TC FEDERAL BANK
The world is full of stories. Every business has their own one-of-a-kind path. That story is special and unique to your business and you need to be able to tell it to the world. Video is the #1 proven medium for today\'s fast pace internet driven consumer and your potential clients. Put your story in their hands. 
We developed videos showcasing TC Federal Bank in Thomasville, GA while they celebrated their 85th Anniversary. They have a storied history and deep roots in Thomasville and wanted to be able to show how that connection is represented in the way they treat each and every one of their customers. 
WHY THOMASVILLE?
IMAGINE THOMASVILLE
When large corporations shut down their factories, move across the country, and set up shop in your hometown everyone wins. Convincing them to do this, however, is a massive undertaking, and you\'re biggest problem is that you can\'t get decision makers to travel across the country and visit your town to see what makes you unique. This is where video shines. There is no better way to truly tell your town\'s stories than through video.
This video project was created both for online video marketing and presentations. Instead of bringing each person to Thomasville – Imagine Thomasville could bring this special cities stories to them. We spoke with different business owners all around Thomasville about why they chose to locate their business here and what they really love about our town.
SHOTGUN EARRING BEGINNINGS
SOUTHLIFE SUPPLY CO.
Telling your business\' story is vital to connecting to potential customers and maintaining a strong relationship with your current market. Video is not only just a collection of attrative images and music. It allows you to tell your unique story and teach people how you got to the place you are now. 
SouthLife Supply Co. has a very exceptional story and history. From humble workshop beginnings to selling their hand crafted leather goods around the country. With a business that sells a product online to customers outside your local reach, video can be a powerful tool to turn your story into profits. SouthLife Supply Co. uses video marketing for multiple purposes, but this video specifically looks at how they began and where they have come since those first shotgun earrings. 
AGPRO COMPANIES – LAKE CITY, FL
FIRST BAPTIST CHURCH – VBS
THOMASVILLE COMMUNITY RESOURCE CENTER
Ready to Get Started?
Every project is different and requires a custom approach, but nothing is too large or too small. If you are ready to take your business marketing to the next level through video production we would LOVE to sit down and talk about your specific needs. Contact us below and let\'s get started!